Welcome to Wessington Group Ltd.
Wessington was established in 1992 in the United Kingdom and is a privately owned business. Since its foundation, the Company has also formed sister organisations in the USA (2003) and the Middle East (2007).
Originally a distributor of speciality chemicals, our product range has grown to include formulated products, finished goods, ancilliary materials and equipment. Prime industries served are construction, textiles, rubber, sealants & coatings, insulated glass and water treatment.
We are a small and flexible company, looking to provide a tailored approach and service to both customers and suppliers. We aim to offer comprehensive technical understanding of our key products, with logistical support from stocks strategically located in the UK, UAE and USA.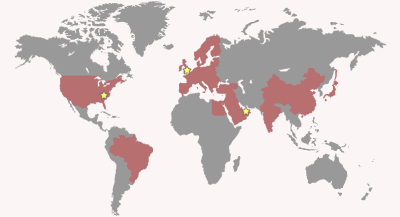 Wessington is an active member of Trade Associations, representing our areas of activity in Chemical Distribution, Adhesives & Sealants and Glazing. This allows us to gain expertise in the safe handling of chemicals whilst developing knowledge on the performance standards for the end uses of our products.
As well as conforming to Health, Safety and Environment standards, Wessington recognises the importance of Quality Management Systems and, accordingly, complies with the requirements of ISO 9001:2008, with a system which is audited annually.